Our History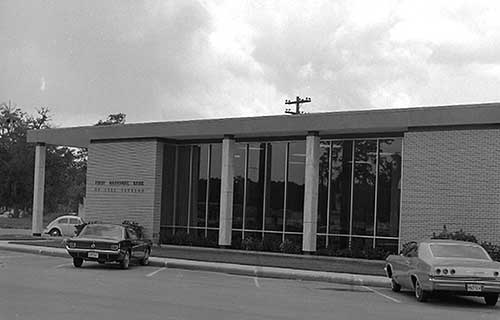 As you can see from the photo, our bank has been around for a number of years serving the community we know and love.
The First National Bank of Lake Jackson received its charter from the Comptroller of the Currency on September 20,1963 and opened for business on September 26, 1963. The bank opened with two officers, three employees and twelve directors. By 1976, the bank had outgrown its original location at the corner of Parking Way and That Way. A new building was constructed and opened in 1981 on West Way at Highway 288. It was one of the first high rise buildings in Lake Jackson. In October of 1991, a deal was struck with the Resolution Trust Corporation for the former American Savings and Loan Building. With this purchase, the bank opened a branch on the corner of Hwy 36 and Hwy 332 in Brazoria. The bank presently has nine officers, twenty employees, and fourteen directors and maintains its local ownership supporting organizations on both sides of the Brazos River. It is a true independent community bank, owned and managed by local individuals dedicated to serving the financial needs of the area. The bank holds memberships in the Texas Independent Bankers Association and other organizations. The bank is represented by its officers, directors and employees in the Brazosport Chamber of Commerce, Brazoria Chamber of Commerce, 100 Club, Brazosport Round Table, Junior Achievement, and various other community organizations.
We love Lake Jackson and are proud to serve our community and the surrounding area. We look forward to serving you, stop by today!